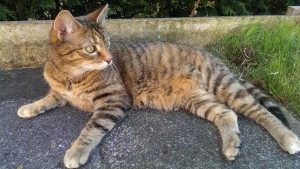 Hi Windyway Team,
We have adopted Belle 3 months ago (February, 2014) knowing she could be a little feisty or even aggressive and she wouldn't like females. Once we had arrived at home, she attacked each one of us, it didn't matter if male or female. That might have been her way to say 'hello' !
As we are respecting what she likes and doesn't like she hasn't attacked anybody ever since. With loads of TLC she became a  lovely cat which listens perfectly to her name and enjoys the outside very much.
 As you can see in the picture Belle loves to
cuddle with us on the sofa especially lying on our bellies and licking all over our hands – no differences if male or female.
Our neighbours are telling us how pretty she is and we are sure the tomcats in the neighbourhood think the same. 
We are very happy that we got the chance to adopt Belle and thank you very much.