Dear everyone at Windyway,

Leo here, just wanted to let you know how I am getting on in my new home. I live with my new Mum and Dad, Karen and Steve. I have a new brother too, his name is Merlin, he is a lab collie cross, he is 13 and not very well now, so he can't come for walks with me, but we cuddle up and I finish off his food when he can't eat it.
Me and Merlin's baskets are in the kitchen, and we have a dog flap so we can go out into the garden whenever we like. I like to go out and lie in the sun. There is a wall round our bit of the garden, and then after that there is a lawn and lots of flowers, and at the bottom of the gardens there are two chickens, a black one and a white one. My Mum says I am not allowed to eat the chickens, which I think is a really stupid rule, she says they are friends not food, but she is wrong they are definitely food, I really want to eat the big fat white one.
At the bottom of our garden is the Churnet Valley, there are lots of fields and woods and a river, we go down there twice a day. There are lots of exciting things to sniff and loads of very smelly stuff to roll in. I don't roll in the smelly stuff as much as I did when I first came, as Mum makes me have a bath when we get back. There are some really big dogs down there though, they are black and white, and make a mooing noise. I am not sure about them, I stand and stare at them when I see them till my Mum makes me move.
Sometimes we meet other dogs down the field, that I can play with. My favourite friends are Will and Jake, who I love to run around with. I scare my Mum with how fast I run. Will came from Windyway too, so we chat about the place and how lovely you ladies were. Don't we both look handsome in the picture my Mum has sent you?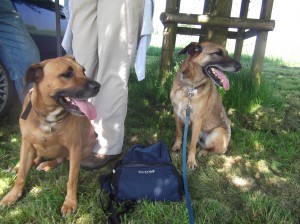 On Tuesday nights me and Mum go to dog training class. I love going to dog training and get really excited as soon as Mum gets the bag out of the cupboard to go. I just do all the things my Mum tells me to do and I get fed treats, it's really easy. Next week we are starting are bronze award, I think that means even better treats.
Today we have done a charity walk for our local dogs home, we have raised some money for them. We have walked 5 miles, I ran the whole way, and my Mum says I have probably done 10 miles compared to the humans 5. There were lots of people in bright jackets to point us in the right direction, and everyone kept asking about my leg, and seemed surprised that I could walk?! Silly humans, they can walk and they only have two legs!
Anyway it is time for me to go to my basket now. I just want to say thank you to everyone at Windyway for looking after me while I was there, and helping me find my new family. My Mum says she will bring me up one day to say hello, but I will never ever be coming back to stay.
Lots of woof and licks,
Leo         xx