TILLY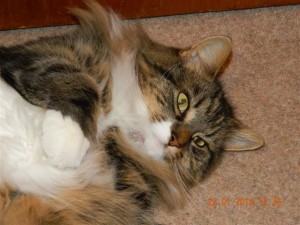 Hello to all the Windyway team.
Just letting you know how Tilly the cat I collected from you on Thursday 9th January is getting on. As you can see from the attached photo's, she seems ok.
She is eating well (likes the wet food now) and uses the cat flap into the back garden. She follows me round the house at times, and I think she's climbed every piece of furniture in the house. Audrey, my wife, and myself have always had a cat. Audrey died last year and I had to have our cat put to sleep later in the year, so Tilly has made life a little happier. Thank you for letting me have her. Best wishes to all the other animals.